Social Work Roles & Career Progression
One of the best things about pursuing a career in children's social work is the sheer variety of roles and specialisms which are available. Regardless of whether you've always wanted to become a social worker, or are considering a change in career, the flexibility and range of roles means you can make the most of your unique set of skills and experiences to support children and young people.
How social work career progression works
As part of studying to become a social worker, you will likely be introduced to the Professional Capabilities Framework (PCF). This details the level of knowledge and capability that is expected from social work practitioners at each stage of career progression. The PCF includes nine stages, but the first four of these are part of the process of studying and qualifying as a social worker.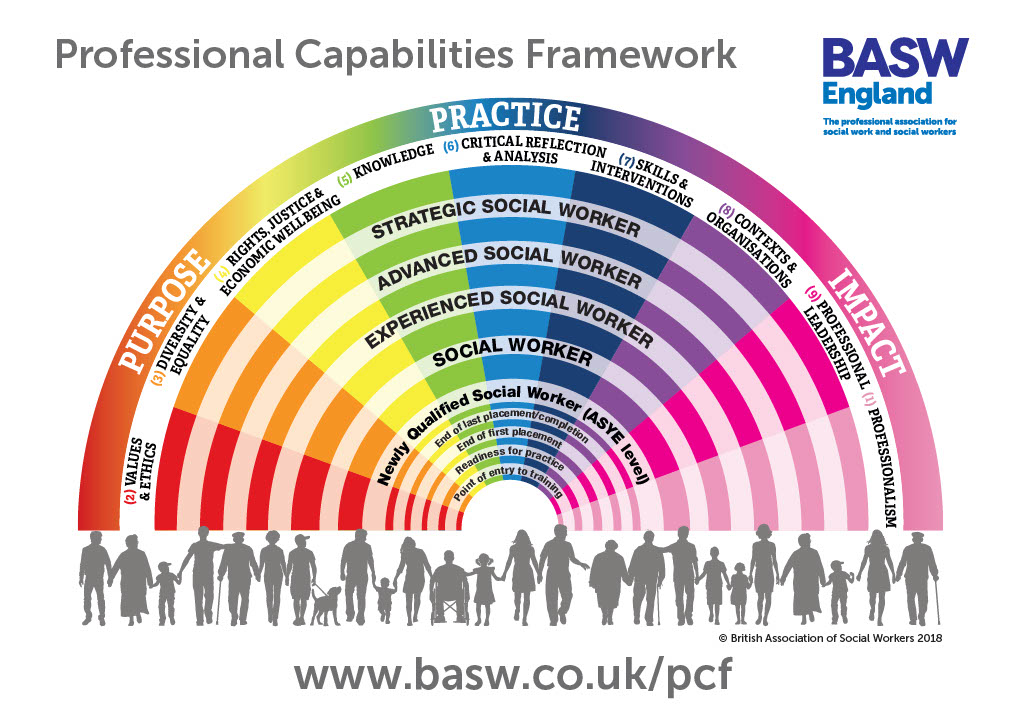 Each stage involves an increased level of knowledge and responsibility. The five post-qualification stages are:
Newly Qualified Social Worker

Social Worker

Experienced Social Worker

Advanced Practitioner/Senior Social Worker

Strategic Social Worker
Below, we've summarised each stage and some of the roles and specialisms associated with them.
Newly Qualified Social Worker
After qualifying from an accredited social work course, you'll be ready for your first role in children's social work. At this stage, most social workers will undertake the Assessed and Supported Year in Employment (ASYE), which helps to bridge the gap in responsibility between the placements you did at university and professional practice.
As a Newly Qualified Social Worker, you will typically have a limited caseload and access to support and supervision from senior and experienced colleagues. During your ASYE, there will be lots of opportunities for critical reflection and supervised practice. You will also be interacting with colleagues in a range of different roles, which can help you to decide which pathways to pursue in future.
Social Worker
Once you have finished your ASYE, you can expect to see a greater level of responsibility and autonomy. As a social worker, you will be expected to employ the skills you have developed and refined over your first year of practice to support multiple children and young people with a wide range of needs.
Children's social workers often tell us that no two days are ever the same – you will find yourself working and building relationships with people from all walks of life, alongside partner agencies like the NHS, education, police, or community safety teams.
Experienced Social Worker
After building up several years of experience in frontline social work practice, you will have a strong understanding of the professional skills and capabilities needed to make a positive difference to children and families.
At this point in their career, many social workers will be considering their options for the future. With such a wide range of possibilities, you can choose an area of specialisation which suits your skills and values.
Advanced Practitioner/Senior Social Worker
The next step in your social work career often involves a move into a more specialised role. Some of these roles involve handling more complex and challenging cases, while others are more about using your experience in the field to train, support or manage other social workers. Some common advanced or specialist roles are listed below:
Practice Educator: This role involves guiding and evaluating student social workers during their placements to ensure they are well-prepared for practice and actively contributing to the support of children and young people.

Advanced Practitioner: Advanced practitioners tackle intricate cases, drawing on their extensive knowledge and expertise to address complex challenges.

Approved Mental Health Professional (AMHP): AMHPs, after specialised training, conduct independent mental health assessments, demonstrating in-depth understanding of mental health, medical diagnoses, and relevant laws.

Independent Reviewing Officer (IRO): IROs oversee the Care Plans of children and young people, ensuring their best interests are prioritised, valuing their input, and holding the local authority accountable as a responsible 'corporate parent.'

Child Protection Conference Chair: Operating independently from the social work team, you facilitate child protection conferences, ensuring children, young people, and families can voice their perspectives and that all stakeholders comprehend and commit to agreed-upon actions.

Assistant Team Manager: In this role, experienced practitioners handle complex cases, contribute to practice development, and collaborate with individuals and communities to help them make informed decisions while directly influencing service planning.

Team Manager: As a team manager, you bear responsibility for directing, delivering, and monitoring team performance, managing risks appropriately, and ensuring adherence to best practices and performance targets in service delivery.
Strategic Social Worker
At the most senior end of the scale in terms of career progression, social workers with a wealth of experience may opt to take on more of a leadership role. Strategic social workers focus more on applying their knowledge and understanding to shape the overall approach of social work services, tackle wider challenges for the profession, and ensure that high standards of practice are maintained. Some of the common strategic/leadership social work roles include:
Service Manager: This role is responsible for the overall direction, performance, and strategic leadership of one of the specialised social work fields, ensuring compliance with best practices and effective management of statutory services.

Principal Social Worker: For those who prefer to remain actively involved in frontline practice, a Principal Social Worker role allows a senior practitioner to lead the development and implementation of best practices across operational services, bridging the gap between front-line experiences and management.

Head of Service: Part of the senior leadership team in a local authority, a Head of Service is responsible for one or more service areas within Children's Services. They are expected to provide both strategic and operational leadership, including service development, quality assurance, and performance management.

Assistant Director of Children's Services: Serving as a strategic lead for safeguarding and children's social care, this role collaborates across partnerships to support strategic plans and enhance service quality for children and young people.

Director of Children's Services: At Director level, social workers are responsible for shaping the organisation's strategic direction, ensuring exceptional leadership, direction, and management to deliver the best possible outcomes for children and young people.